AposHealth®'s next major advance in our mission to create the best patient-centric orthopedic solutions available has arrived. We've reimagined the foot-worn device component of our Apos® System from the ground up with patients and providers in mind. Today, we're unveiling a significant update to the Apos® System's features that deliver on style and ease for patients, a more streamlined calibration process for providers, and a step forward in data collection and AI for the healthcare industry.
In its inception, AposHealth broke new ground with the launch of the Apos® System—a revolutionary combination of gait data science and a proprietary, customized foot-worn device—for the management of musculoskeletal pain. To date, patients on three continents have regained their vitality using this at-home, evidence-based, non-invasive system whose mode of action is driven by biomechanics and is delivered through the placement of proprietary pods on the bottom of the device. The pods are custom calibrated to redistribute the body's weight away from painful areas1 and re-educate the brain and muscles for healthier movement.2
What's new for patients
AposHealth understands that 99% of a patient's life happens outside of a healthcare setting and people want care that fits with their lifestyles. The first and most obvious change patients will note in the new Apos® is its new look. More like a stylish comfort sneaker than an orthopedic device, it was designed to be less conspicuous as a medical device. And the upgrades don't end there. The new Apos® was designed for everyday comfort with a wider shoe form, soft inside liner, and breathable, lightweight mesh uppers making Apos® lighter and more comfort-focused.
Patient engagement and compliance lead to better health outcomes and the new Apos®' comfort- and style-focused enhancements are designed to make it more desirable for patients to comply with their prescribed therapy program—as they only need to wear Apos® an hour a day while going about their normal routine at home or at work.3
What's new for providers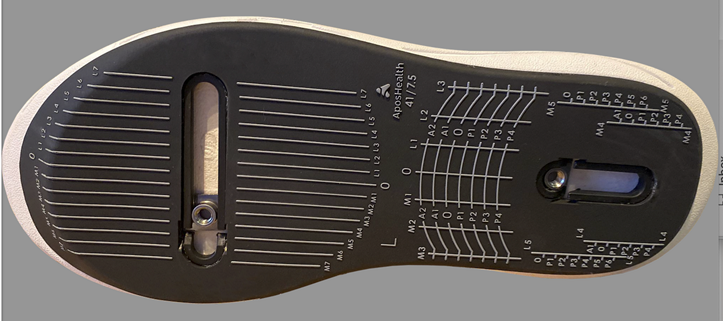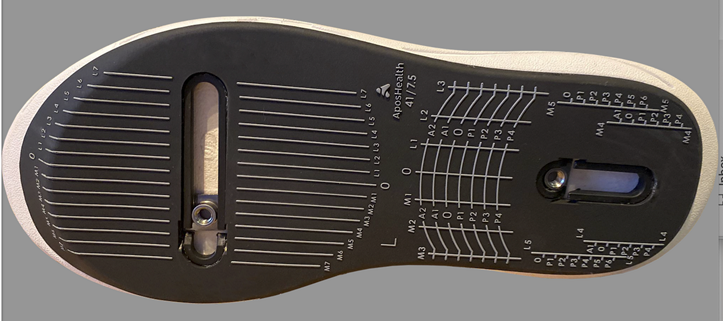 AposHealth also understands that time is a premium for providers and is introducing a precise mapping system that makes calibration and pod placement easier and faster than ever before. The new mapping system on the soles of the Apos® foot-worn device can track multivalent positioning of the pods, providing reference points that exactly describe each patient's unique pod configuration and simplify placement. Whether it's training clinicians, pod installation, or calibration, our providers will find that the new mapping system allows them to help patients regain their vitality with more efficiency than ever before.
Always one step ahead, AposHealth uses this mapping system for clinical decision support. Anonymized pod placement data is used to generate algorithms and provide clinicians with calibration recommendations based on outcomes with similar patients.
AposHealth's upgraded System makes providing Apos®' innovative musculoskeletal care easier than ever. Our providers can offer patients—who have an increasingly larger say in their care and are playing a larger role in selecting their providers—a convenient and evidence-based treatment that is more stylish and comfortable than ever before. And our new mapping system will make fittings and calibrations more efficient than ever so that providers have more time to treat patients and patients have more time to rediscover their vitality.
We're excited for our current providers to experience the upgraded Apos® System.
If you haven't already, now is the time to discover why 98% of patients in a 2019 Survey of NHS Apos® patients said that they would recommend Apos® to friends and family.4
1) Haim, A., Wolf, A., Rubin, G., Genis, Y., Khoury, M. and Rozen, N. (2011), Effect of center of pressure modulation on knee adduction moment in medial compartment knee osteoarthritis. J. Orthop. Res., 29: 1668-1674.
2) Yulia Goryachev, Eytan M. Debbi, Amir Haim, Nimrod Rozen, Alon Wolf, Foot center of pressure manipulation and gait therapy influence lower limb muscle activation in patients with osteoarthritis of the knee, Journal of Electromyography and Kinesiology, Volume 21, Issue 5, 2011, Pages 704-711, ISSN 1050-6411
3) NPS scores for those treated with Apos4 (in the patient wear test) were higher on average than NPS scores from those treated with Apos3
4) Based on internal patient satisfaction survey done on NHS patients diagnosed with knee OA